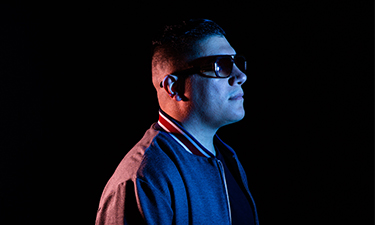 Chris Cutz is the go-to guy for nearly every celebrity party that comes to America's finest city.
Growing up grooving to all the greats of the 70s, 80s, and 90s music, Chris turned to DJing as a way to pay homage to the genre of music that he loves so much: hip hop. Though his roots come from a love of hip hop, Chris has branched out and perfected his sound to include an eclectic mix of songs that covers nearly every genre of music. No matter what kind of crowd or party, he is guaranteed to rock the spot playing hip hop, house, electro, dubstep, soul, funk, disco, reggae, pop, rock, and more.
For nearly 16 years, Chris Cutz has been one of San Diego's most sought-after DJs. He has entertained big names like Beyoncé, Kanye West, John Legend, Estelle, Jamie Foxx, Kim Kardashian, and Paris Hilton. Promoters and venues alike know that his name on a flyer equals a crowded room full of party-goers. Audience members know that if he's behind the decks, they're in for a party rockin' good time.
His unique style, ingenious mixes, and uncanny knack of choosing the right song at the right time, and mind-boggling turntablist skills are some of the reasons Chris is known amongst his peers as a DJ's DJ. These talents are what set him apart from others and has given him the opportunity to play clubs on a local, national, and worldwide level.
Chris Cutz is not just a club DJ—he's an artist, a student of hip hop, and a relentless practitioner of his musical craft. He will continue to rock the decks with his creative and unique style that keeps everyone in attendance excited and entertained.
Upcoming Events
Jan 5
Chris Cutz
Firehouse American Eatery + Lounge