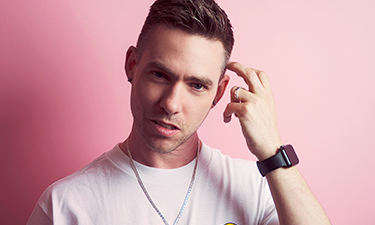 DJ, Producer, Remixer, label boss… for a decade now Graeme 'Sinden' has stealthily established himself as a leader of dance music as we know it. Well documented and supported collaborations with Shadow Child, SBTRKT, AC Slater to name a few, demonstrate the level at which he operates.
Growing up in Hockley, rural Essex, the first music that really struck a chord with a teenaged Sinden was rap music, "a potent controversial force, more rebellious than political than anything around at the time," with Beastie Boys, NWA, 2 Live Crew, and Dr Dre proving to be the soundtrack of his formative years.
The past few years have seen a busy release schedule for Sinden. Collaborative EP's and remixes for Night Bass, a 2 track EP for Tchami's Confession label and an album for leading Japanese House label Sushi Records are just a few of many highlights.
On the remix front, his production touches are in high demand. His reworks for Cause & Affect, Bobby Brackins, Paces and Alison Wonderland are still firmly on the USBs of the main players.
Sinden is helming an exciting new project entitled 'Houseline' which he carefully curated and visualized. Working alongside Insomniac Records, the first compilation was released earlier and enjoyed widespread acclaim and success. Taking inspiration from the spirit of no ego 'music focused' warehouse raves and the enterprising bass bent house and garage music he pioneered, this label kickstarts a new and exciting chapter in an already colorful music career.
Sinden has also partnered with some great brands in the past 12 months further showcasing those production tricks and DJ skills. He performed at Roland's prestigious 909 launch day event and at the Roland stage at NAMM 2017. Topping off a very busy year (EDC Las Vegas, Electric Forest, Middlelands, Beyond Wonderland, Life Is Beautiful, Night Bass Summer Phases, etc.) he also delivered a performance video for Serato, cementing his status as an official artist for the innovating New Zealand based company.
Upcoming Events
Jan 25
Sinden
Downtown Las Vegas Events Center